"COOLYORKER" – High Fleshness Refrigerator –

"COOLYORKER" Makes…
improvement of quality control.
cutting cost of inventory control.
Adding more profit on Sushi&foodbusiness.
Reduction of waste disposal.
saving natural resources and maximize customer's satisfaction.
POSSIBLE!!
How "COOLYORKER" Works?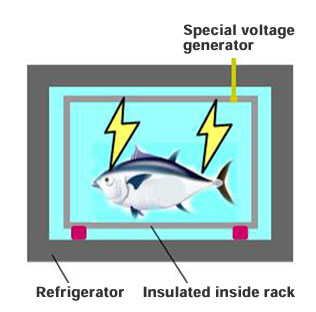 To refrigerator
Install insulated inside rack
Put foods inside it
Apply special voltage to foods
(Using weak current)

Taking out only pressure-risen negative current, COOLYORKER inhibits deterioration of food by deoxidationeffects.

Apply special current to inhibit deoxidationto foods directly.
⇓
With supercoolingfrozen preservation, you can inhibit bacteria breeding. (need to make sure of condition)
⇓
The period you can preserve foods will significantly increase.
⇓
You can provide high-freshness delicious foods that might be rotten if you preserved with normal system.
★Moreover, to gain more profit on your business, you can increase freshness and yield rate by "dry prevention" function.
Imagine how your business will change with "COOLYORKER".
Longer preservation of Sushi with higher freshness
Zero waste disposal
Less drip on thawing
Supercoolingstorage
More tasty, more profit
Saving more energy
e-brochure
Demonstration Video
Cola that is Supercooling by Coolyorker.
Cola in the bottle was frozen instantly in the impact cap is opened.

Contact Us
Contact person in Indian market
MR. MadusankaJayatilake
E-mail:japan@coolyorker.com
COMPANY NAME: En Kitchen Co.,Ltd
Adress: Nishi Kamachi1298-1, Yanagawa City Fukuoka, ZIP8320005 JAPAN
TEL:+81-944-32-9357
FAX:+81-944-32-9358
CEO/Managing Director:MR. HISAYUKI YAMAGUCHI